Hello
You are doing it on your own risk i dont care if u brick your device
Take special care about touch driver if u flash wrong u may briock your digitalizer
Take care about afi config becouse if sth went wrong u wont be able to connect your tab to computer
Always check do you know how to connect adfu (connect to pc) on powered off tab before u flash new firmware!
Becouse some tablets arent support by their sallers and we are all know how atm7029 is weak on old 4.1.1 android and old 4.2.2 on newest ainol fw is liitle better but it still need to be update I wannt to tell you how to port any fw on your device.
Ofcourse sometimes you didnt get 100% working fw becouse some fw are using lcd0 not lvds other wifi fw may inculde bt module or may doesnt include bt so this tutorial is only "how to make bootable any fw on your device" then to make it 100% work u need to make more changes in porting fw.
I flashed touch driver for ainol novo 7 venus to my bmorn k22 and then my digitalizer get brick, work with not correct points etc becouse in my stock fw touch driver doesnt include fw for digitalizer i started looking for solution flashing other one fw for tablet "looks like my". This wont help me then i start dont having care about do i brick my device or not i flashed on my tab arround 100~~ different firmwares for other tablet my tab is 7 inch i flashed for 10inch also. i didnt care about it. Sometimes i flshed fw without any changes. And what i saw 95% of modules and boot.img are universal if u use it with their system.img. I know that it can looks wiried that we have a lot of different tablets and producents may said that same is only cpu and graphics but firmwares works on any device same. I was close to brick only 3 times. first when i flashed fw for colorovo citi vision 2.1 becouse there wer home button to enter adfu mode. 2. when i flashed crystal 2 newest fw without any changes becouse newest (01.14.2014) isnt include "adfu keys" in afi config and i coudnt get recovery or connect my tab to pad product tool. 3. when i flashed fw for newsmy 7 (i dont know why). So i have to say thats its rlly hard to brick our device. Once time i flashed fw for atm7021 and i didnt get brick too.
Ok lets start
what we need?
winrar 7zip notepad++ ect
Ultraiso or any other program which will able to open unpack and save misc.img.
Actions PAD Firmware Modify Tools (v1.7 or newer) (PFM)
http://www.slatedroid.com/topic/94521-actions-pad-tools-developer-editions/
1.Fw for your device(if u dont have it may be backup specila misc.img and build.prop)
2.Fw which u want to port.
1.
Unpac misc.img for your own device to any folder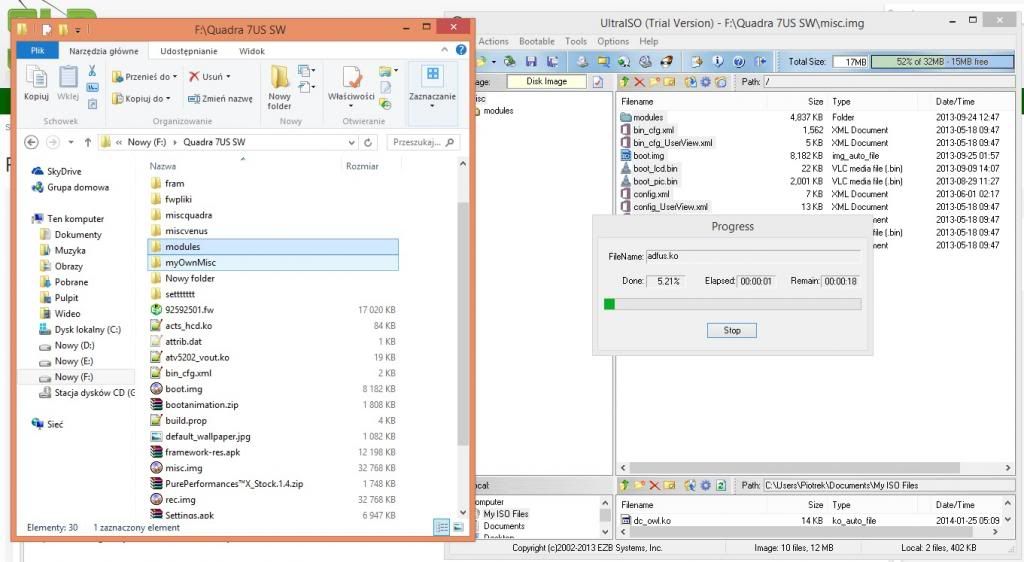 open Yor fw in PFM
open build prop and save it
now open program files->afi.cfg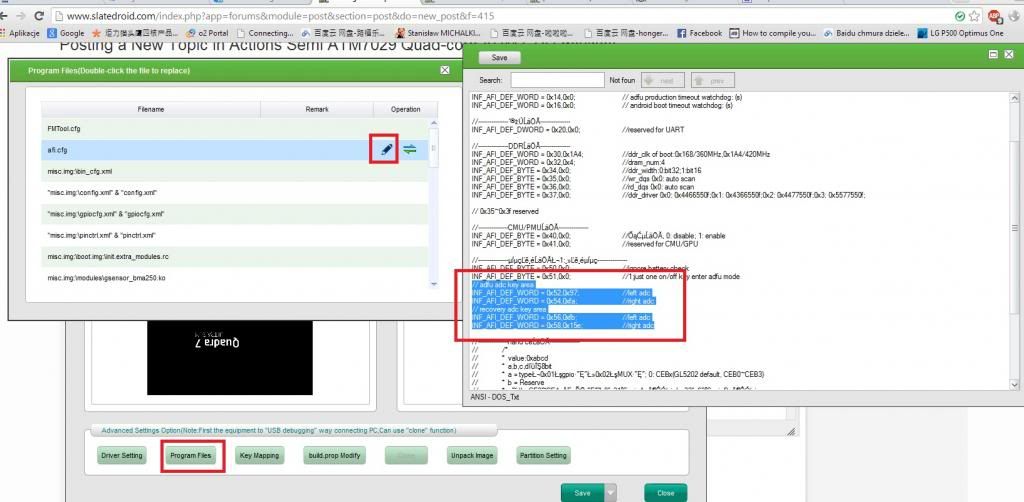 open pinctr.cfg and chack do your fw use lcd0 or lvds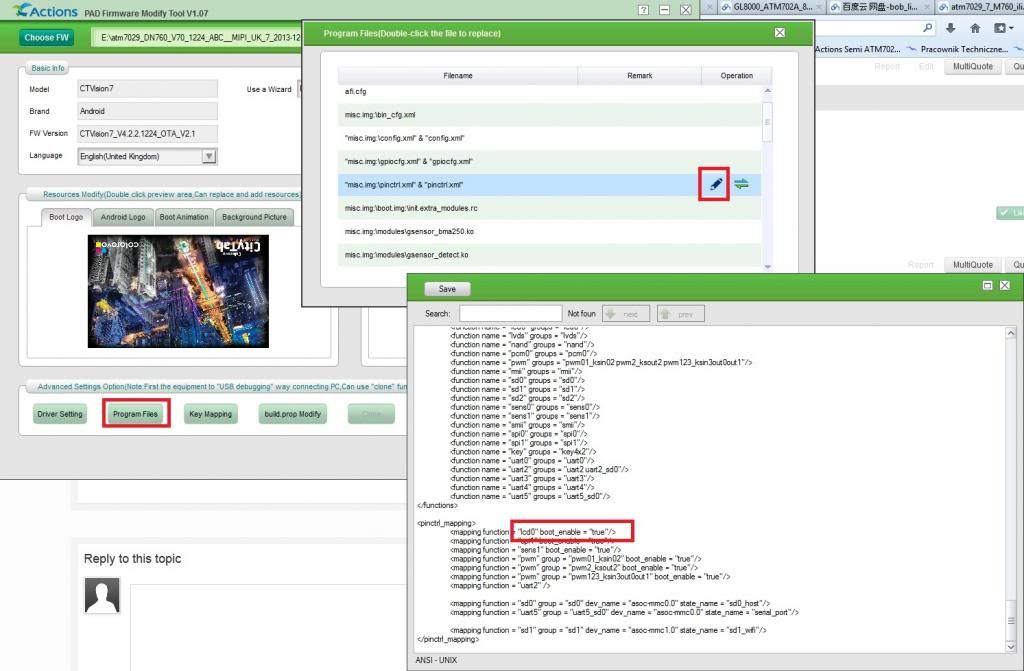 ok now open firmware which u want to port
make sure have same value in afi.cnf becouse if isnt u wont able to connect adfu on powered of tab if sth went wrong and u will have problem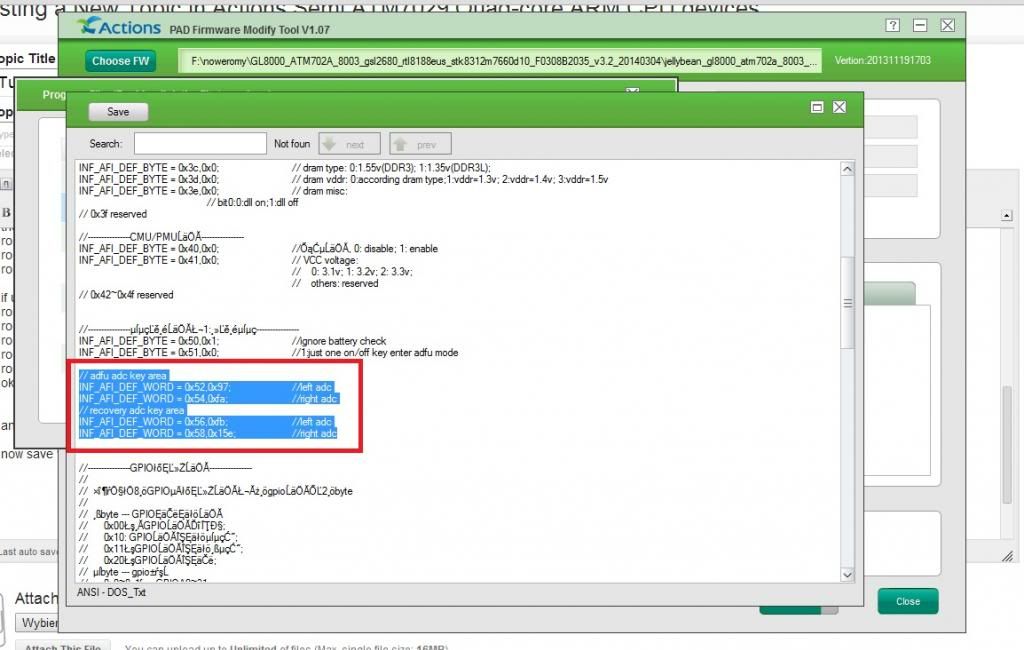 check pinctr.cfg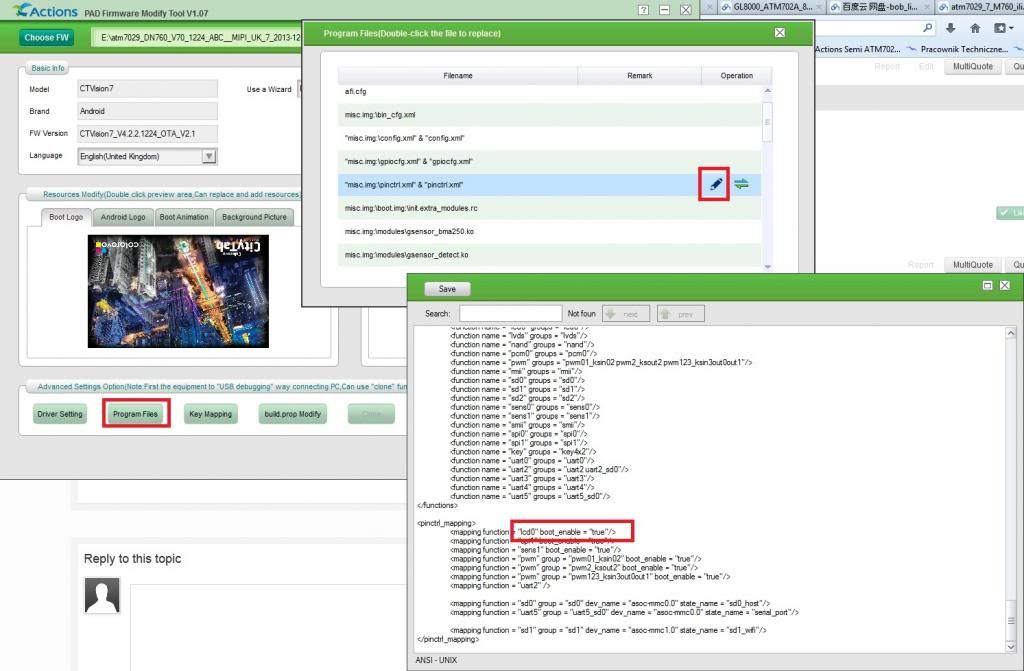 if fw to port include lcd0 and your value is lvds i prefer u to use other fw to port but if u still want to port then at last step u have to replace in misc.img/modules
atv5202_de.ko
atv5202_backlight.ko
atv5202_fb.ko
atv5202_lcd.ko
but i have to say that atv5202_de.ko isnt universal so if u have android 4.1 then u can replace it in 4.1 if 4.2(with galcore 170kb) to 4.2(with galcore 170kb) if 4.2(with galcore 188kb) u can raplece ist only in 4.2(with galcore 188kb) but it wont work always
also u have to replace in /misc/
boot_lcd.bin