I purchased a ICOO D70 Pro II. Ordered on March/1, shipped Mar/8, and arrived Mon Mar/18.
Bought this since it was pretty inexpensive - but seemed to get good benchmark scores
and as this was my first tablet - I thought I stay low priced - to see what I may or may not like about them
Since I have an Android phone I was relatively familiar with the tablet operation. The main difference for me was the on screen "soft" keys/icons for Home, Return and Menu which are hard keys on my phone - sometimes some apps take the full screen and those soft keys are not shown - I haven't found out how to get them to show yet.....
Version
-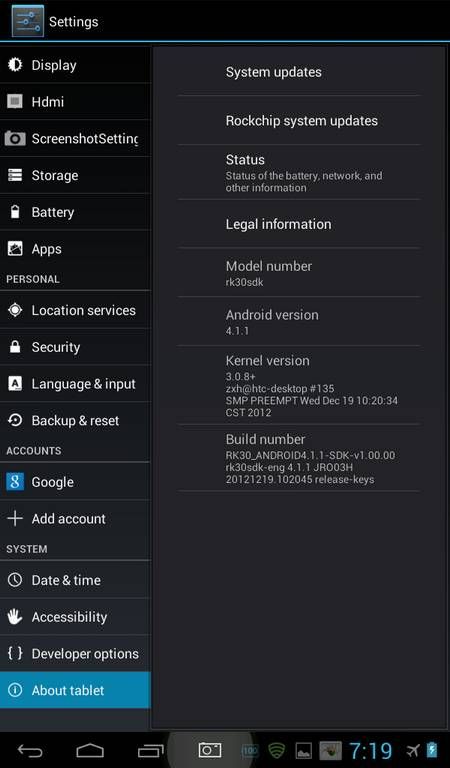 Size:
I do like the size - I know 10" tablets are far more popular - but this 7" tablet fits my needs fine - even if it is only around the house - the size is right.
Screen and Viewing Angles:
Then there is the screen - straight on it is fine - a bit garish in colors as I normally work on an sRGB space AH-IPS monitor and here the tablet colors are overly saturated - well garish, is probably the best word.
Then there is the viewing angle - not horrible - but "bothersome" - held in the hand one can vary/tilt the angle to get good view - but say placing on some variable surface like cushion/couch etc. and the tablet can move, then the viewing isn't that great - then the very prevalent black background screens sometimes makes viewing difficult - in some ways I sort of wish I got an IPS screen, where this probably would not be a problem. But then again I only saw ips tablets at about 50% more in cost than this cheapo (* see later) - so not really "regretting", but more "longing". My phone (LG Optimus T) probably is IPS because its viewing angles are a lot better than this tablet.
I figured out a partial reason for my viewing angle difficulties - I usually use the tablet in landscape orientation - but find it difficult to view if I just put it on a surface like on the seat next to me - I seem to have to hunch over the screen to get a more or less straight on view - hence my "complaint" - this is somewhat mitigated if handheld - where I would just adjust the angle to suit.
However after having this for a few days I thought the view from the other side of the tablet seemed better - this was almost revelationary.
I had been using the tablet with what I thought the obvious orientation with the On/Off switch and volume control along the top edge - the volume control would be + to the right and - to the left.
However flipping the tablet around so that the switches were on the bottom gave much better angles - I know it seems obvious now that the orientation would make a difference - just didn't figure it until a few days later.... so how much difference? I used the bubble level on
Swiss Army Knife
app - then viewed directly over the screen then tilted the tablet to see the angles where the view would still be acceptable - I'm sure this is not definitive - but close enough for me: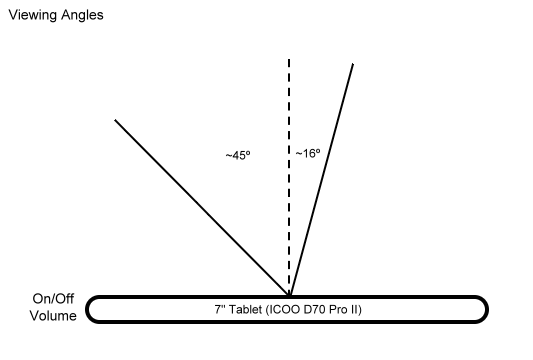 This shows why I was having problems with the screen. Now having the edge with the switches along the bottom has improved the viewing by quite a bit.
The viewing angles when the tablet is in portrait mode is better, I can almost believe the specs of 150º. Of course any tilting side to side would still result in poorer viewing - but this is fairly unlikely when held in the portrait mode. Initially I thought perhaps they had mounted the screen "upside down" as far as the landscape mode was concerned - BUT if one were to prop the tablet up on a stand or keyboard case - then the screen orientation does make sense as we are more likely to view it a little more from the above.
So for casual landscape mode handheld, or simply putting it horizontally on the surface on table/chair/couch/bed - then I feel it's better to have the tablet with the switch edge at the bottom. But on a stand tilted then probably better with the switch edge along the top....
Portrait/vertical mode doesn't make much difference whether the switches are to the left or right - except if the tendency is to tilt it more to the right then have switches on left (and vice versa)
7" screen and 1024x600px are more than adequate for most of my browsing. I'm not too sure if I'd want to go as low as 800x480px - I think 1280x800px IPS would look stunning - but not really necessary for my usage - remember the image and text font sizes are going to be the same - just more pixels packed into the same size area - but IPS would still be nice - even if I have now got used to my non-IPS screen - but to hold 1024x600 on a 7" screen is still pretty amazing - my old crt monitor was 1024x768 and that was 15"!!
Apps
The ICOO D70 Pro-II does have Google Play/Store installed and I was able to download most of the apps I thought were useful (my phone experience) a few apps were not compatible - surprisingly like Viber. But other free WiFi calling apps were compatible
Groove IP Lite
and
Talkatone
definitely can make phone calls even with my preference of using a headset - so the headphone socket does have the 3 connection for a headset - although in Groove IP Lite the earphone volume seemed a bit low - haven't figured yet whether I was adjusting the correct volume....
Benchmarks
-
It is not all negative - the performance is outstanding - Antutu benchmark scores - close, but not quite as fast as the
Google Nexus 7
- 12,726 faster than the
Acer A110
- 10,606 - this ICOO D70 Pro II clocks in at over 11,000 -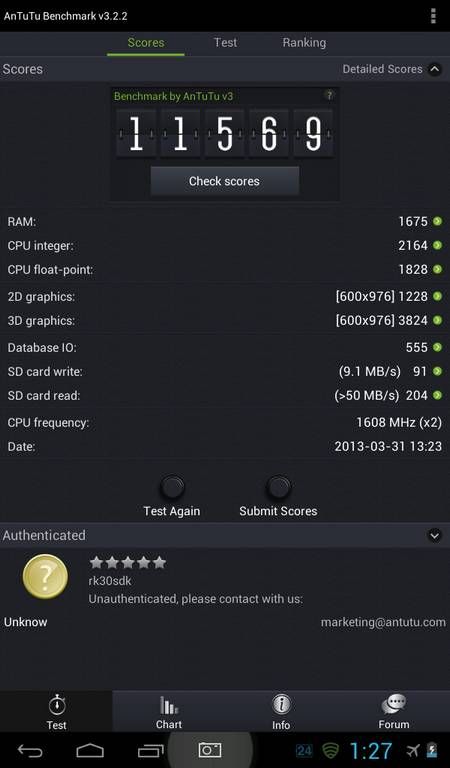 comparison ranking -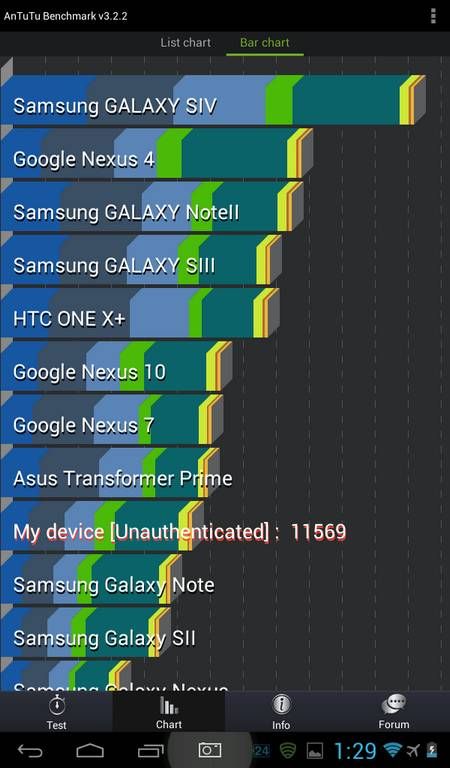 Vellamo benchmarks:
HTML5 -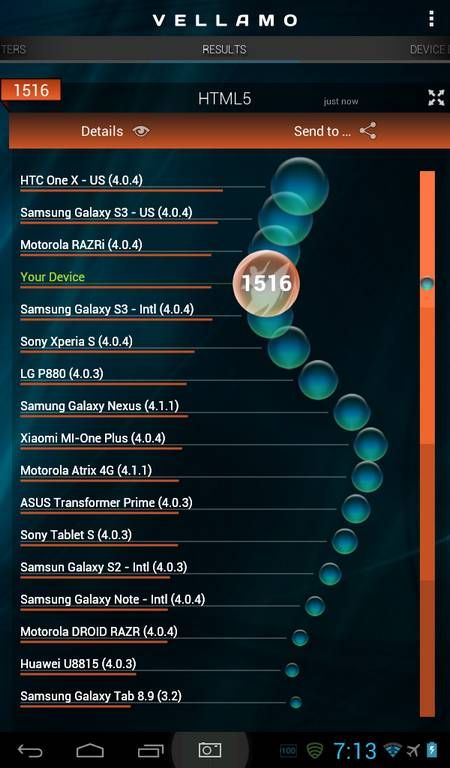 Metal -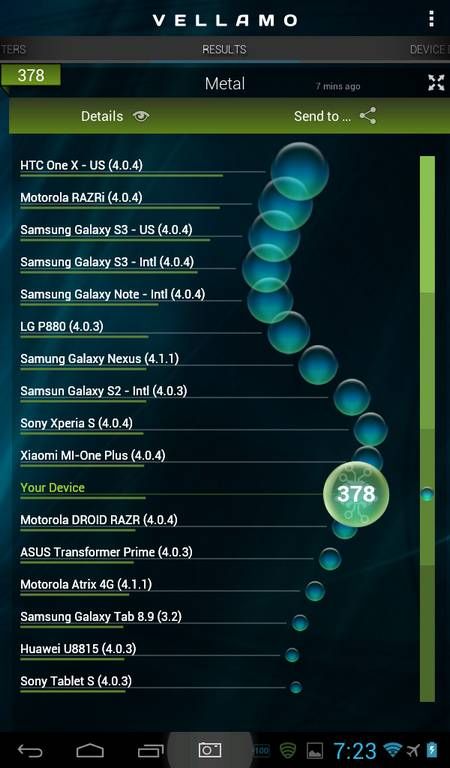 This is pretty impressive for a tablet that costs significantly less than half of the Nexus 7
WiFi
WiFi is good - I connected fine in my living room - the gateway/router was in the basement - then even upstairs - one more floor up.
Battery
The battery specs are 3000mAh - from 100% charged to 0% shutdown seems to last barely about 2 hours in use, with sleep/idle it can last over a day:
.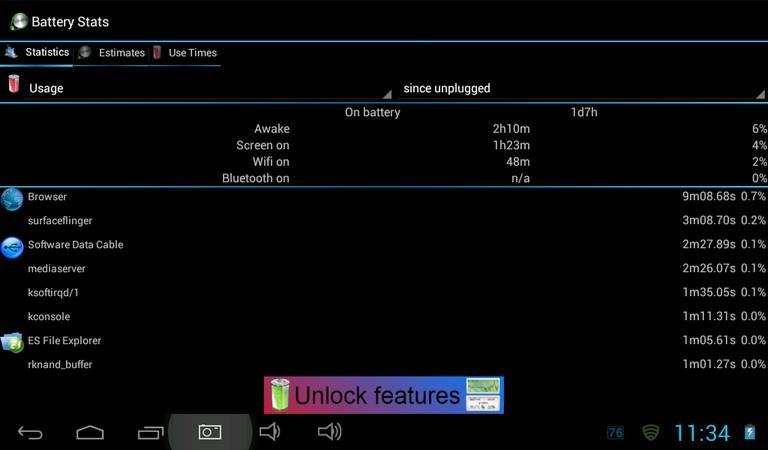 Overall I am quite pleased.
*
IPS screen
-
Non-IPS screen is for me still the biggest drawback - especially as I have found an IPS tablet with similar specs for just $5+ more. I can live with non-IPS - but wish I knew about the IPS screen tablet -
AMPE A78 7" IPS L-142718
Ampe A78 IPS
Antutu score on YouTube
= 12,541
Google Translation of Ampe A78 IPS Review
Antutu = 12,378; Vellamo HTML5 = 1390; Metal = 499
Seems like about the same performance as this ICOO D70 Pro-II, and like a pretty competent tablet.