[hr]
Hello there to anyone swinging by.
I received a Gemei G9 to review.
I will attempt to populate this forum with more information as time permits.
JtZQkzm3vHc[/MEDIA]]
Gemei G9 - First Review - 9.7" IPS Tablet w/ ICS - Purchase at: Merimobiles.com
- by: MrTasselhof

I can CONFIRM it is 10PT Multi-Touch
Fruit Ninja appears to only support 5.

Here is my quick and dirty review:
Overall it seems like a nice solidly built device.
It has all the needed hardware specs to be great.
The biggest downfall right now just appears to be ICS and it's lack of optimization in just about every category.
The 5MP camera is a nice addition, but suffers a bit from the same issue of almost all of these cameras... dark live view images. The actual pictures come out a bit lighter than what is shown on the screen.

I still have a lot more "discovery" to do with the Gemei, but the screen is great being 9.7" IPS 1024x768.

The device is very sleek/thin feeling... reminds me a LOT of the feel of the Aurora, only it is bigger, a bit heavier, and a metal/aluminum back instead of plastic.
It really is a slick looking tablet... I am just hoping for either a gingerbread firmware option (for those that need complete and total performance) or continued refinement of the Ice Cream Sandwich firmware.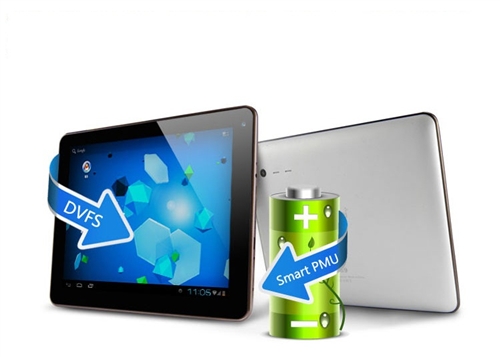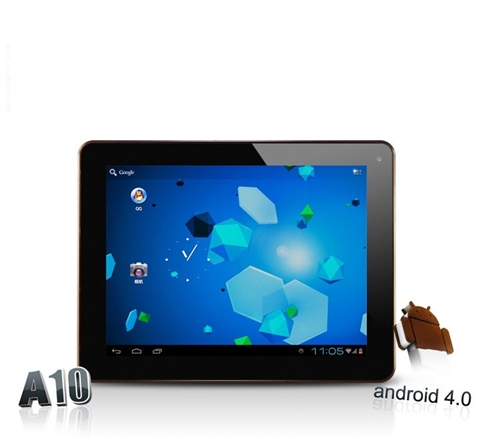 Warranty:

1 Year, click here for details

CPU:

All Winner A10 1.2 GHz
Mali GPU 400

OS:

Android 4.0 Ice Cream Sandwich

Memory:

1GB DDR3 Ram, 16GB Nandflash built in Extend Memory up to 32GB via micro sd card

Screen:

9.7 inch IPS Capacitive 10 points Multitouch Screen
1024*768px 4:3

Audio:

Built in Loud Speaker
3.5MM headphone jack
Supported Audio Formats: MP3, WMA, VBR, APE,FLAC

Video:
Features and highlights:

Dual Camera 5MP rear 1.3MP Front
ICS 4.0.3
HDMI out
Market
2 OTG ports
Wifi 802.11 b/g/n
1.2GHz All Winner A10 processor
1024*768 4:3 High Resolution
16 GB Built in
Flash 10.3
Smooth video playback performance
Gsensor
Speaker
Microphone out
Slim body
3.5mm audio jack

Camera:
Battery:

Built in Battery 7000mAH (35000mAaH*2) Long Battery Life 8-10 hours

Package Content:

Gemei G9
Earphone
USB Cable
Charger