This review is UNDER CONSTRUCTION.
Most of the reviews by other members on this site tend to be lacking. No offense to them, but they just post a giant wall of text. Would it hurt to post pictures of the actual device and post some benchmarks?
Device reviewed: Onda Vi30W Ultimate
- The Onda Vi30/Vi30W is the latest 8" tablet from Onda as of this writing. The only difference between the Vi30 Ultimate and Vi30W Ultimate are the 16 GB internal memory and 2.0 MP rear camera on the Vi30 while the Vi30W only packs 8 GB and lacks the rear camera.
P.S. All pictures and videos in this review were taken by a Sony Ericsson Xperia Mini ST15i. So please bear if some of the pictures are not of the best quality. Click on the image thumbnail to view in full size.
The official specs of the Vi30W are as follows:
Quote
Onda Vi30W Ultimate Edition Specification
Reference Onda Vi30W Ultimate Edition
Operating System Android 4.0.3
CPU Allwinner A10 ARM Cortex A8
CPU Frequency 1.5 GHz
GPU Mail 400
RAM 1GB
RAM Type DDR3
Internal Memory 8GB
Card Reader microSD Card / TF Card 32GB Max.
Screen Size 8.0 inch
Screen Resolution 1024×768
Screen Type capacitive (5 Point Touch)
HD Video Support 2160P,3840×2160
Camera: Front 0.3MP
Video Formats H.263/H.264、VP8(.webm)、MPEG(.dat)/MPEG2(.vob)/MPEG4、WMV1/WMV2/VC-1(.WMV)、RM/RMVB、TS、TP、M2T/M2TS、PMP、MPG
Audio Formats MP3, WMA, WAV, APE, FLAC, OGG, AAC,MP1、MP2、MP3、WMA、OGG、APE、FLAC、WAV、AC3、AAC、AMR、DTS、RA、M4A
Image Formats JPG, BMP, PNG,MPEG(.dat)/MPEG2(.vob)/MPEG4
eBook Formats txt, fb2, pdb, pdf, epub, mobi
3D Support
Adobe Flash Support Yes
FLASH+HTML5 Support
WiFi Standard 802.11 b/g/n wireless protocol
3G External
G-Sensor Yes
Other Applications Office, Browser, Gallery, Clock, Calculator, Calendar, Taskiller, Gmail
Built-in Speakers
Working Time: 5-8 hours
Color White
OTG support
Language Multi Language

I/O Ports
1*TF Slot
1*Headphone Jack
1*USB2.0/OTG
1*HDMI

Dimension 215*158*10mm
Weight 490g
Onda Vi30W Ultimate Edition Package
1 x Onda Vi30W Ultimate Edition
1 x USB Cable
1 x User manual
1 x OTG
1 x Charger
Build quality: UNDER CONSTRUCTION
This section is under construction. I will add more pictures and post more observations in a few days or so.
The tablet is made of aluminum but is not of unibody construction. The side trimmings and underside ports are enclosed by black plastic while the facade is covered by beautiful glass. It should be noted that the "gap" between the screen and the glass is almost non-existent. In practice, the screen does not seem recessed and general viewing is more pleasurable. No backlight bleeding or color shifting when viewed at an angle. Contrast does drop at angles since it is not an IPS or AFFS screen (screen the section [Viewing angles] below).
Size comparison:
Below are pictures of the Onda Vi30W Ultimate with the Vi40 Elite to its left, and the Ainol Novo 7 Aurora to its right.
-Vi40 Elite vs Vi30W Ultimate vs Ainol Novo 7 Aurora. Screen size-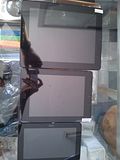 -Vi40 Elite vs Vi30W Ultimate vs Ainol Novo 7 Aurora. Thinness-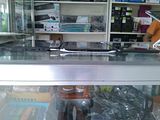 -Vi40 Elite vs Vi30W Ultimate. Thinness-
-Vi30W Ultimate vs Ainol Novo 7 Aurora. Thinness-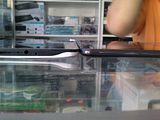 Viewing angles:
Below are pictures and a video that shows the viewing angles of the Vi30W Ultimate against a Super AMOLED Samsung Galaxy S i9000. It should be noted that the Vi30W is NOT IPS. However, the use of the glass screen helps aplenty with readability in low light to office lighting conditions. Medium (40%) brightness offers very good viewability in any condition except outdoor daytime or direct sunlight.
-Vi30W Ultimate vs SGS i9000. Both 100% brightness-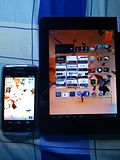 -Vi30W Ultimate vs SGS i9000. Both 50% brightness-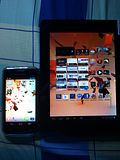 -Vi30W Ultimate vs SGS i9000. Both 50% brightness-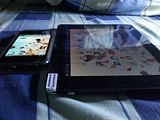 -Vi30W Ultimate vs SGS i9000. Both 50% brightness-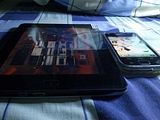 -Vi30W Ultimate vs SGS i9000. Both 50% brightness-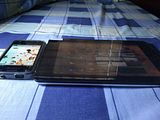 -Vi30W Ultimate vs SGS i9000. Both 50% brightness-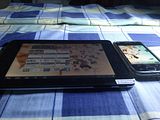 -Vi30W Ultimate. 100% brightness. Viewing angle test. Video-
Performance: UNDER CONSTRUCTION
This section is under construction. I have not yet performed any performance benchmarks as I have not yet the time. I will update this post once I'm done.
I do have some observations regarding the performance. General UI performance is very snappy using Nova Launcher. Browser performance is a mixed bag. Tested with both Dolphin HD and the stock ICS browser. Scrolling is fast even for media heavy pages like Engadget. Despite the smooth scrolling performance, there is the occasional "image buffering" of sorts. By this, I mean that when you scroll up or down, text and other media blur into a low-res mess and take about 1 to 2 seconds to finish loading. It's terrible for media heavy pages but highly serviceable for everything else. Pinch-to-zoom performance is surprisingly snappy with either the Dolphin HD or stock ICS browser. The old speed king of browsers, Opera Mobile, is dreadfully slow on Cortex A8 + ICS devices. The Vi30W Ultimate is no exception. As for games, the only games I've tested so far are Modern Combat 3 (playable, but FPS dips a lot), Frontline Commando (very smooth).
There is ONE VERY BAD thing with regards to performance. The tablet occasionally stalls during every other action! What the hell Onda?! What the hell?! Every few actions or so (loading a page, switching a tab, loading an app, swiping through the UI), the thing hangs! It stalls anywhere from 5-15 seconds. Afterwards, I get this:


Quote

<Application name> is not responding. Would you like to close it? Wait or OK.


It's ridiculous and affects the usability big time. It would've been very, very usable if it were not for this stability issue. Since this product is relatively new, there are NO other firmwares yet. I will post an update if they've fixed this stability issue in a firmware update.
Update 1:
I have discovered that the stock ICS browser is causing the "<Application name> is not responding" problem. I have ensured that the stock browser never opens or runs in the background. Doing that has enabled me to have a lag-free experience with the Vi30W Ultimate. I replaced the stock browser with Opera Mobile 11.5.3 (11.5.4 and higher are slow on ICS + Cortex A8 devices) and everything is spectacular. Given the 1 GB RAM on this tablet (about 600 MB of which is usually free), having even 5 or more tabs on Opera Mobile continues to a deliver a lag-free experience, even with media-heavy pages like Engadget. This definitely comes close to that PC/desktop browsing experience many people are looking for in a tablet.
Battery life: UNDER CONSTRUCTION
This section is under construction. I have not yet performed any objective battery benchmarks yet.
My current verdict on battery life is this: abysmal. Again, I forgive them for the meantime due to being a first batch unit without any other firmware. The Onda Vi40 Elite used to have terrible battery life during its launch. With newer firmware, battery life more than doubled and standby time was much, much longer. The Onda Vi40 Elite now lasts over 6 hours of browsing on wifi at 30% screen brightness.
Here are my observations on the battery meter:
Loses about 10 to 15% every 30 minutes of non-intensive use. Medium brightness (50%).
Loses about 5% every 2 hours on sleep mode. Battery suddenly drops anywhere from 5 to 10% within 10 minutes of use from sleep mode.
Update 1:
Standby battery life has improved after several days of use and 3 discharge/no-break charging + calibration sessions. Now loses about 5% in about half a day and battery doesn't suddenly drop as steep anymore. However, 5% for about 12 hours of standby is still terrible and even older Allwinner A10 devices like the Ainol Novo 7 Advanced can pull off a loss of just 5% on standby for two whole days.
The above numbers are simply terrible. Alas, it was the same with the Vi40 Elite when it was still new, I have hope that battery life will increase like it did with the Vi40 Elite in the coming week or so and when newer firmware arrives.
I have also tried several CPU governors in addition to the default 'fantasy' governor. I used AnTuTu CPU Master for this. All of them have the same impact on battery life while the 'ondemand' governor's step up time is awfully long. The 'interactive' governor's step up/step down time is very, very fast.
I have already done battery calibration twice. For the calibration, I've drained it until it's almost dead and charged it until it was full while it was turned off. The charger is 5V/2A and the Vi30W Ultimate's battery is 4400 MAh, so charging time when turned off would be around 2 1/2 hours. I charged mine for 3 hours.
Application support: UNDER CONSTRUCTION
This section is under construction. I have only installed a small number of apps on my device at the moment.
Market comes preinstalled on the device and automatically upgrades to Google Play when you run it over wifi. Google Play app compatibility isn't the best and you'll find a lot of missing apps like Facebook and YouTube. I have tried the Google Play fix here:
http://www.slatedroi...s-missing-apps/
, but it does not seem to fix the Google Play issue. Many apps are still missing, though compatibility of the missing apps seem to be fine. Apps like Facebook and YouTube, which I sideloaded via APK install, work flawlessly despite being hidden/missing on Google Play.
Conclusion: UNDER CONSTRUCTION
This section is under construction. I have not yet come up with a concrete verdict of this device.
This post has been edited by SymphonyX7: 09 June 2012 - 07:36 AM